Back to the Indie Corner series
---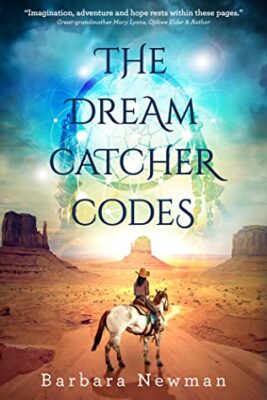 This month's Indie Corner explores Barbara Newman's The Dreamcatcher Codes. Barbara Newman always wanted to be a cowgirl. Growing up in New York didn't stop her. She took that can-do spirit and became an award-winning global creative director, leaving an indelible mark on brand culture. After hearing an NPR story about the American cowgirl, she was so inspired, she left the ad world and found herself in Montana, Wyoming, and Texas filming a documentary about their lives. An advocate for empowering girls, Barbara facilitates girls' leadership programs, and was part of the think tank that inspired the Fred Rogers Center for Children's Media/Education. This is her first novel. Her website is https://www.barbaranewmanauthor.com.
Mary: Tell us about yourself–your life so far and how you got started in writing.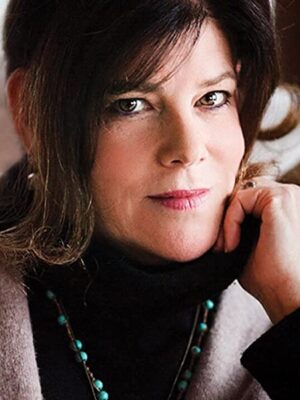 Barbara: I've been a storyteller for as long as I can remember. I studied journalism and film, and envisioned myself traveling the world as a documentary filmmaker. Somehow, I took a left turn and ended up in New York writing 30 second stories for global brands. There was a lot about it that I loved; advertising sits at the intersection of art, commerce, and psychology—it's a fascinating mix. It gave me the opportunity to collaborate on a film set, work in an editing room, and contribute during a music session. I started writing longer format pieces. Then my life changed. I heard an interview on NPR about the American cowgirl and was so inspired by the courageous spirit of these unstoppable women, I found myself in Montana, Texas and Wyoming filming a documentary about their lives. I interviewed Sandra Day O'Connor, Temple Grandin, and so many others—cowgirl poets, artists, writers, photographers, women who saved wild horses, understood the land, and lived by the cycles of the natural world. I saw nature through a new and beautiful lens. I was also immersed in a new kind of writing. The narrative was informed by what I got on camera, the surprises, the things you don't expect. So, it was very fluid. Our funding was put on hold, and a week later I had a dream. A strong, undeniable message came through. It was the Universe tapping me on the shoulder saying, "you need to write this book about four fierce girls coming together to restore Mother Earth." It became The Dreamcatcher Codes. It was a calling.
Mary: What do you love about The Dreamcatcher Codes?
Barbara: There is so much that I love about this book. First, it takes two of the things I deeply care about—girl empowerment and the state of our environment—and puts them into one epic eco-fantasy. While the story has magic and mysticism, it is also rooted in the real. It was heavily researched, there is a great deal of science, but it reads like adventure.
I love the beauty in its pages, the earth wisdom, the messages from nature, the plant and animal kingdoms, the winds, the waters, the cosmos. I write about the sacred geometry of a zinnia, the thirteen 'moons' on a turtle's shell, the way the pufferfish creates a perfect mandala in the sand, a safe nest for the female's eggs. I also write about plastic in the oceans, coral being bleached, glaciers calving. And the shapeshifting clouds that represent human greed, leading to raging storms and a climate that threatens life. That said, it is a hopeful book.
I also love the diversity in The Dreamcatcher Codes, from ecological to human.  I wanted to build cultural bridges. My four girl characters come from very different backgrounds. One girl is biracial and Jewish, another is indigenous. (The book has been blessed by recognized elders in these communities.) Through sharing stories about their ancestors, tribal genocides, the Holocaust, and inter-generational trauma, they come to understand their common threads of connection. All four girls become a circle, a sisterhood. They are stronger together, braided like sweetgrass, with a shared purpose.
Lastly, I love that this book is an opportunity for readers to see the natural world through new and wondrous eyes, and be so inspired, that they are called to become stewards of our precious planet.
Mary: Who is the intended audience, and what's going on in the story?
Barbara: The story builds cultural bridges, unity and hope while illuminating two critical issues of our times: climate change, and girls finding their voices and vital place in the world.
In the story, repairing the world is the calling; the urgent task for four fierce girls as they come together to restore Mother Earth. They are on a quest to find the missing piece of a crystal horseshoe, an ancient talisman that holds the sacred Codes of Nature, the very key to the planet's survival.
But time is running out. The bees are dying, the oceans are filled with plastic, and a dark energy lurks in the shadows, threatening their search. Powered by the elements of earth, air, fire and water, messages from mystical dreamcatchers, guidance from the ancestors, and wisdom from the land. This fierce sisterhood must rely on courage, mythic horses, and each other if they are to succeed.
Ultimately, their epic adventure takes them on a daring journey into a deeper understanding of their own unique place in the universe.
The audience is Young Adult, but I've been told that mothers and daughters are reading it together. I intended it for 12 and up, as the protagonists are all fourteen years old. But many adults are loving this story for its lyrical prose, and the aspect of discovery—they are seeing natural world in a new way, too. It's making them think about what they can do to become allies for the earth.
Mary: How were you inspired to write this novel, and what background work did you do in building this YA fantasy world?
Barbara: My initial inspiration came in a lucid dream. I was standing in the desert, animal skin on my back, mountains in the distance. The setting sun painted a sherbet sky of pinks, and purples, and oranges. My feet were planted in the sand, inside a mandala that was the logo/brand of the Cowgirls Are Forever film. A rush of wind lifted the mandala, and it came down in another form—in the shape of a book. I said, "hmm, this is a message." It was detachment, of course, the letting go of one project to make room for another. I knew I didn't want to write a book about cowgirls. And then, in an awakened state, images came to me: horses, crystals, ravens, rivers, and four girls coming together from the four directions. They were flying on horses with feathered manes. I felt they were here on an environmental mission, what it was, I didn't know. I began to build the world by pulling photographs and illustrations. My entire office was a giant vision board. I also spent a great deal of time observing nature. I traveled to remote places. If I was to write about the land, I needed to know her on a deeper level. I faced my fears, went out of my comfort zone, and slept in the high desert without a tent. I wanted to hear the wild soundscape and be so close to the stars that I could practically taste the milky way. I went bouldering—I went on solo hikes to places where I got messages from the winds, the animals, the stones.
I also had many conversations with Native American friends and historians. Their teachings and guidance were invaluable. This book could not have been written without their support.
Mary: What sorts of other ecological themes does your novel have?
Barbara: The ecology of landscape is a potent theme. So is diversity: relationships between humans and the plant and animal kingdoms. I touch upon how trees communicate. Behavioral ecology, the relationship between people and the planet, certainly comes up in the form of human greed, and how it effects and destroys the balance of nature. This eco-novel teaches about the interconnectivity of all things. We are not separate. Plant, animal, human, earth: we are all in relationship.
Are you working on anything else right now?
Barbara: I'm always writing/thinking/mulling/considering. But The Dreamcatcher Codes was birthed less than three months ago. So, I'm giving it the mama love it needs to flourish and thrive. I'm in marketing mode. Earth Day and World Oceans Day are around the corner, and I'm hoping to align with organizations that share the values of this story. I want this book to find its way into the hands and hearts of those who need to discover this story. I want this book to make a difference. It's my love letter to Mother Earth and all her daughters.