Back to the Indie Corner series
---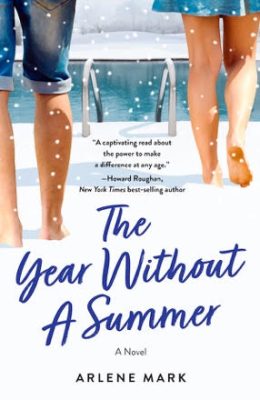 Arlene Mark's The Year Without a Summer (August 2022, SparkPress) is a heartwarming and relevant novel for middle-grade and YA readers. It's certain to provoke thoughtfulness and discussion about the climate and empathy for those around us. For two eighth-graders, disasters erupt—natural, man-made, and emotional ones. How much can fourteen-year-olds take? A science project embroils Jamie, snowboard team member, unmotivated for anything school-related, and a high-achieving newcomer from Puerto Rico, Clara Montalvo, who survived a major hurricane. They come to blows by voicing very different opinions about a volcanic eruption. They eventually learn to work together and combine their interests. It's an important and timely read about teen mental health and communication, family and friendship dynamics, and teen views on climate change.
Mary: Congrats on your novel! What led you to write this book?
Arlene: Thank you for the congrats. It's always hard for me to celebrate something I've done, but it's a lesson for me. We must accept the congrats and give ourselves a tiny pat on the back.  So, what led me to write this book was that I learned about a historic natural disaster and realized I could create fiction around this fact. My scientist son-in-law told me about the Tambora volcanic eruption of 1815 that spread ash throughout the northern hemisphere, causing a year without summer in 1816, and even more after that. When my research about the results of no summer turned up details about six inches of snow in Albany, New York, in June of 1816, I could imagine one of my main characters, Jamie, who lived to snowboard, on the page. I saw that natural disasters could be an important part of the story, and soon after I created my other main character, Clara, who arrived in Albany with her family from Puerto Rico having survived Hurricane Maria. Clara and Jamie are eighth graders and have a story to tell.
Mary: Can you fill in our readers on what's happening in the novel?
Arlene: Natural disasters, man-made disasters, and every-day emotional disasters are what's happening. The teens must negotiate all these in addition to dealing with regular eighth-grade pressures. How many disasters can a fourteen-year-old kid take? That's what two eighth graders face on the day their favorite teacher, Mr. J, assigns the next science project: Report on a historic natural disaster. Jamie, unmotivated for anything related to schoolwork, befriends a new classmate from Puerto Rico, Clara, who survived a recent hurricane. Neither knows much about the other, but soon they come to blows and disrupt the class by voicing their different opinions about the 1815 volcanic eruption. Jamie's psyched when he learns that the disaster caused a year without a summer and over six inches of snow in his hometown of Albany, New York. He loves snow and snowboarding. He could have snowboarded back then. He doesn't pay much attention to Clara's opinion about a disaster she recently survived. They learn that they must debate the pros and cons of the year without a summer or face academic uncertainty. Jamie can't afford any more troubles at school. Clara's hopes of a scholarship could be dashed. 
Jamie's brother in Afghanistan is fighting a war Jamie can't understand. Clara works feverishly to be in touch with her father, who returned to Puerto Rico to help the rebuilding after Hurricane Maria. Working together on the dreaded natural disaster assignment, Clara and Jamie come to see that today's man-made disasters are what matter now. They reluctantly become a team and inspire their classmates to help raise awareness about climate change and ways to help. Their new skills empower and surprise them and change the word disasters to discoveries.
Mary: Jamie and Clara are opposites at first, but then form a friendship that leads to activism. Were these characters inspired by real-life activists, and if so, who?
Arlene: They both believe in what they have to do to get through that year and onto high school. That's how eighth grade starts. Who's here from last year? Who's new? Once Jamie focuses on the project, he knows he can't fail science or eighth grade. His knowledge about Tambora turns out to be a lifesaver. New student Clara, who had survived the biggest hurricane to hit Puerto Rico in decades, doesn't need anyone to feel her pain. She knows the real thing and holds onto her story. Jamie does typical research, but that turns him on to some amazing facts. Only when Clara confronts him does he call upon strengths that he never knew before. 
As for inspiration, once they start reading more about man-made disasters they find young people like Greta Thunberg and Jamie Margolin, who spoke at the United Nations about other young people taking up issues with climate change. Clara had gone to a rally in Albany and saw how many people of all ages were alarmed and marching for climate awareness. Clara takes all this inspiration back to school and elevates her and Jamie's campaign to include classmates. Their common worry is what brings them together. 
Mary: How important is it for teens and young adults to find a place in literature for caring about the environment?
Arlene: I'm not sure about whether teens go about their days thinking about their lives and the environment. Of course, if a particular teen is a reader and finds an amazingly inspirational and exciting novel about what he or she is interested in about the future, that's great. If it's not a book that inspires them, perhaps peers talking about it (or a television show, film, or podcast that gets them on fire about this topic) will. I guess that if teens keep their ears and eyes wide open and pay attention to what's happening in our world, each will, if interested, find a way in. 
In terms of eco-fiction or non-fiction, wouldn't it be great if a group of teens would corral their peers, ask them what they think about climate change today? I know newspaper articles appear from time to time about this topic, but that's the end of it. This group of teens could publish the book or submit to a magazine and keep the conversation going with others.

Mary: Any other thoughts you would like to share?
Arlene: Every young person has thoughts and opinions. Unless these are voiced, they remain hidden and the world is deprived of knowing them. More importantly, young people may be frustrated with bottled-up feelings. We writers, teachers, parents, friends, legislators, and others must encourage young people of all ages to speak up in appropriate ways, such as debates, classroom conversations, and other forums to let the world know what's on their minds, what's important to them.
***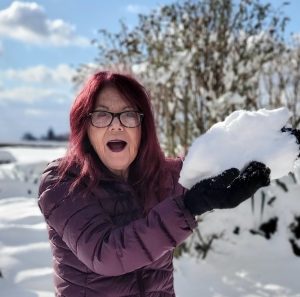 Arlene Mark was born and raised in steel country in western Pennsylvania before making her way to New York City to begin her career. After working in fashion, marrying, and committing herself to family, she lived in London, Caracas, and Toronto with her husband and three children before settling in Greenwich, CT. She holds an MA in special education and certification in school psychology; she interned at New York State Psychiatric Institute. Her work has appeared in Highlights for Children, Spider – Magazine for Kids, Skipping Stones, Adolescence, Their World, and Greenwich Magazine. She is also the author of To the Tower, A Greenwich Adventure, and was co-author for Paraverbal Communication with Children: Not Through Words Alone. She has served as a contributing editor for The Greenwich Time, offering articles about children's emotional lives. Her eight grandchildren are enthusiastic fans. When not writing, Arlene can be found lobstering with her husband Reuben, traveling to countries in the Global South, and visiting schools there, reading (mostly books for kids), and screening current films.