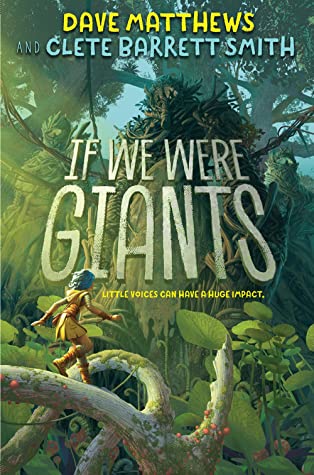 For May's Turning the Tide spotlight, I was thrilled to ask Clete Barrett Smith about his work with Dave Matthews (yes, that Dave Matthews) on their new children's book If We Were Giants.
Just published a couple months ago, this book is aimed toward a middle-grade audience, but all ages will enjoy it.
Kirra, a curious, agile, and outgoing girl, lives in an idyllic community hidden inside a dormant volcano. She and her father are the only two people allowed to venture beyond its walls. Kirra is in training to become a Storyteller like him, and together they travel from village to village spreading fearsome tales designed to keep outsiders away from their secret nest. One day, after hearing rumors of strangers called the "Takers," Kirra leaves the volcano by herself, hoping to discover her own story. But she unknowingly leads the Takers back to her doorstep, and they rob her of everything she has ever held dear. A devastated Kirra is found by a boy named Luwan and adopted into his family, which lives among others high in the trees of a dense forest. Now quiet and withdrawn, Kirra hides her dark past from everyone and never wants to leave the safety of her tree dwelling. Luwan, on the other hand, loves to explore. One day it leads to trouble: He is captured while spying on a group of strangers. The Takers have returned. To save the Tree Folk, Kirra must face her inner demons and summon all her storytelling to weave the most important tale of her life. This compelling novel about overcoming loss, embracing community, and living in harmony with nature is highlighted with a full-color insert of concept artwork, making it perfect for family sharing.
Chat with Clete
Mary: You're an author of a series of children's books about aliens. Can you talk some about that series?
Clete: When I fell in love with reading in elementary school, I also became interested in sci-fi. And as much as I adored Star Wars, I did wonder: "What do aliens do when they are not flying around in warships trying to kill each other? What do they do for fun?" It got me to thinking about aliens in a more humorous and lighthearted way. I wanted to write a book where aliens came to Earth, but not an invasion story. I did not want the aliens to be the villains. This combined with my idea of writing about kids doing work. When I was a kid, I would do anything I could think of to make money–wash cars or mow lawns or collect golf balls after hours in the woods by the course and sell them to golfers in the parking lot. Whatever. And so I combined the two ideas, with a middle school kid getting a job at a bed & breakfast that was an undercover operation for real aliens to vacation on Earth in disguise. I like the premise because it opened the door to a lot of creative and funny scenarios.
Mary: You've recently collaborated with Dave Matthews in writing the children's novel If We Were Giants. How did you decide to write fiction that hopefully turns children on to the natural world?
Clete: Dave and I have talked with each other about our love for the forest, and about how playing in the woods as kids is great for the imagination. Speaking for myself, the forest was special because parents/teachers/adults did not follow us out there. It was our own little "kid world" where we could build forts and rope swings and let our imaginations run wild. I'm sure that I sound stereotypical of people my age when I say that kids are a bit out of balance these days in that they spend an inordinate amount of time in the digital world. Hopefully reading good stories set in the natural world will inspire them to put the phone down and go on a hike!
Mary: Oh, I remember the forest world and to this day am still a kid in that respect. In Giants, the main character of the story, Kirra, is independent-thinking and wants to save the natural environment around her. How were you inspired to create this character?
Clete: The original idea for the premise and the characters came from Dave. But I believe that it's natural for me to connect with Kirra, as I have four daughters (two bio and two bonus/step). Being with them is my absolute favorite thing to do, so I have a lot of experience being around young girls and hearing them talk/interact in unguarded moments with each other.
Mary: What do you think fictional storytelling about protectors of the environment can bring to children, and even adults?
Clete: The power of literature is that it makes us empathetic. It takes us out of our own heads and lets us see the world through someone else's eyes and, perhaps more importantly, someone else's heart. Getting information on the environment from newspapers or scientific journals or documentaries is important and valuable. But fiction can make you emotionally invested in a topic in a way that statistics and facts doesn't always achieve.
Mary: As a dad, have you gotten any personal feedback from your children?
Clete: Whenever I talk to another artist or creator–writer, musician, poet, whatever–the running joke is the indifference that our kids have regarding what we have created. We are, first and most importantly, their parents. (They are proud of me and my book accomplishments, of course, but they would rather talk about something else!)
Mary: Do you think this novel might be made into a movie?
Clete: The movie rights have already been purchased by Disney and I think it would make a fantastic film, especially the climactic battle scene.
Mary: That's really exciting news. Are you working on anything else at the moment?
Clete: Of course! (But I can't talk about it…)
Mary: Thanks so much for your time, Clete, and I can't wait to hear more about your new project.
For more about this book, please see the following video with Clete and Dave: