Backyard Wildlife – There's Something in the Water
---
I'm finally here, near Halifax, land of many forests and lakes. Flying into the airport I felt both worried about my multi-city flight across the country during a pandemic but was also thrilled to see a land of plenty, seemingly. My writing room overlooks the back yard, and until now it has been mostly gray and green except for a cypress and a few spruces. But now, even though it's still snowing occasionally and very cold and windy, buds are starting to peep out on the many roses and the apple trees. We've seen blue jays, sea gulls, crows, and possibly a pine grosbeak. We've seen chipmunks and a pheasant. We've begun to identify a few species of flora in the yard, the most notable recently is the red-stemmed dogwood bush lining the outskirts of the back half acre. Right now it boasts berries, which are not pleasant nor edible as they may cause a rash.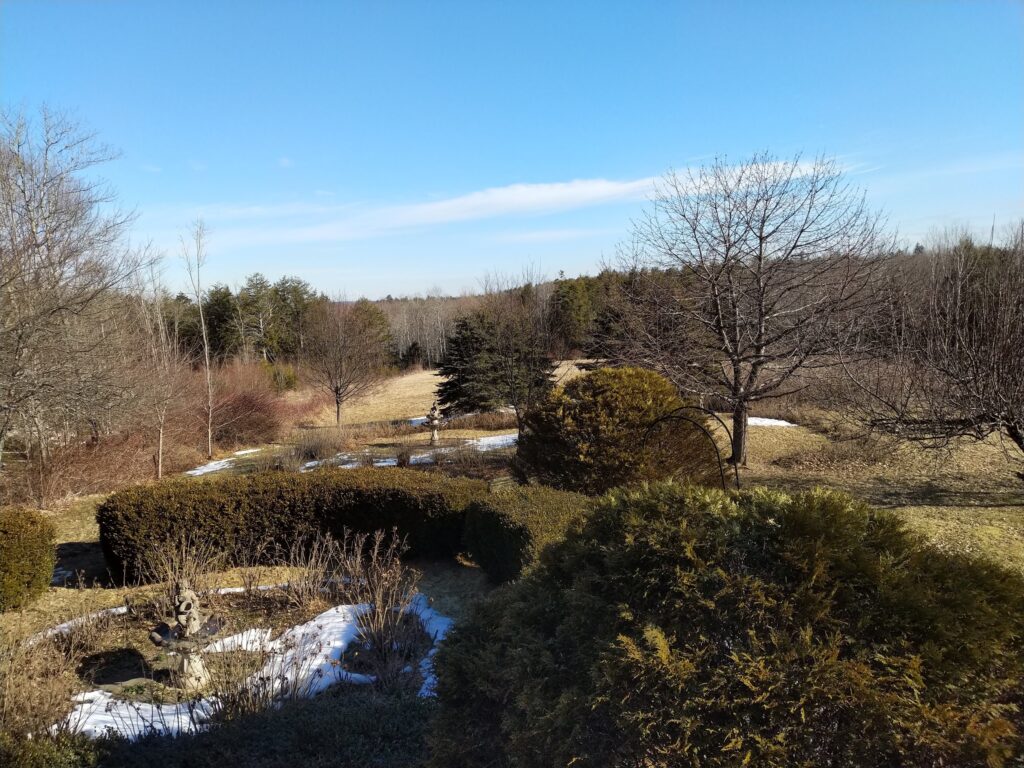 It's breathtaking.
But Nova Scotia, as far away and less urban as it seems, does have issues relating to environmental racism, as we learned last night in Ellen* Page's documentary There's Something in the Water. Page was raised here, and she came back to investigate things not necessarily in her memory but eye-opening. And I think we all should recognize these issues.
*After I wrote this piece, Ellen changed his name to Elliot.
The story is an old one, a continuous one–indigenous and marginal (of color) peoples subject to poisonous waste dumped on their land or water, pipelines run through their territories, oil sands built on their community's edge, other industries (coal, mining, fracking, etc.) in their backyards, and a greatly increased rate of cancer among the towns and villages.
I highly suggest watching this documentary (on Canada Netflix now). I was very moved by collective groups of indigenous and black women, taking heart in every single instance, because they believe that it's their sacred duty to protect the land and water and air for their people and future offspring.  Travel to the site of a dump near south Shelburne–settled decades ago by people of color coming up through the underground railroad–a toxic waste effluent dump into the tidal lagoon of A'Se'k (Boat Harbour), traditional home of the Mi'kmaq; and Mi'kmaw grandmothers trying to protect the Shubenacadie River from Alton Gas, which would hollow out salt caverns and dump the refuge into the water.
The featured image is a low-res screen capture of the There's Something in the Water trailer.
So, next month, I'll get back to my yard. There's a lot of work to do. But I leave you with a poem I wrote a few years ago, which was published at Word For/Word. It's about Josephine Mandamin (Anishinaabekwe), the "Water Walker". Josephine died in February last year. I wrote the poem ten years prior.
Josephine
Anishinabe tradition is for women to fetch the water.
And there she goes.
Her copper pail filled with the sun
Swaying for thousands of miles
She smiles, offers tobacco and chants
To the waters of each great lake
Her walk slow and deliberate.
From Katarokwi to the St. Lawrence
Where beluga whales die of cancer
To the once great Erie
And male frogs who grow ovum
To the Love Canal —
A hooker killed that.
Invasive species giggle in the soup
And estrogen floats with shit.
PCBs banned decades ago
haunt bottom layers of sediment.
The water levels down four feet
Coastal wetlands disappear.
Flags rise off her shoulders
She smiles, prays, nods
People laugh at her, think
She's crazy!
I think
She's the sane one.