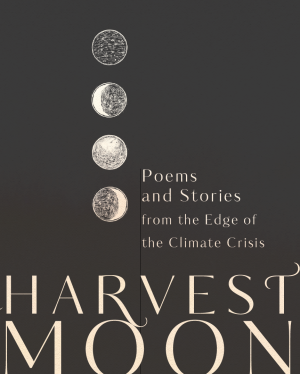 Harvest Moon is an anthology of loves and lives, of stories that thrive where borders and edges meet and where fates merge and collide like bodies of water seeking oceans and tides encountering clouds and landfall, habitats and hives. This anthology of 30 images and over 30 poems, stories, and essays about the climate crisis brings together writers, photographers, and artists from Africa, Asia, the Pacific, and Latin America. The pages of this book span generations, countries, habitats, languages, and multiple realities. See more at Milflores Publishing and Agam Agenda.
Contributors include Shirley Campbell Barr, Vinai Dithajohn, Marjorie Evasco, Luisa A. Igloria, Kathy Jetñil-Kijiner, Fiston Mwanza Mujila, Leonardo Padura, and Malebo Sephodi.
"You could make an atlas of trouble out of this book, out of floods and droughts and fires and famines, out of the instability of what we counted on for our stability and our sustenance in body and spirit and hope. One of the questions that arises for me is what will sustain us through this period. We will need stories more than ever."
—from the Afterword by Rebecca Solnit
*I will update the publishing date later, but the book is available for pre-order now.