Click here to return to the series
The global novel exists, not as a genre separated from and opposed to other kinds of fiction, but as a perspective that governs the interpretation of experience. In this way, it is faithful to the way the global is actually lived–not through the abolition of place, but as a theme by which place is mediated. Life lived here is experienced in its profound and often unsettling connections with life lived elsewhere, and everywhere. The local gains dignity, and significance, insofar as it can be seen as a part of a worldwide phenomenon.
-Adam Kirsch, The Global Novel: Writing the World in the 21st Century
---
About the Book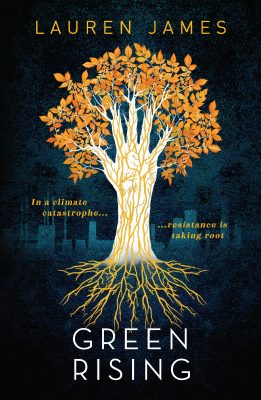 Green Rising is a YA fiction for 12+ audiences. Set in a near-future world on the brink of ecological catastrophe, Lauren James' novel is a gripping, witty, and romantic call to arms.
Gabrielle is a climate-change activist who shoots to fame when she becomes the first teenager to display a supernatural ability to grow plants from her skin. Hester is the millionaire daughter of an oil tycoon and the face of the family business. Theo comes from a long line of fishermen, but his parents are struggling to make ends meet.
On the face of it, the three have very little in common. Yet when Hester and Theo join Gabrielle and legions of other teenagers around the world in developing the strange new "Greenfingers" power, it becomes clear that to use their ability for good, they'll need to learn to work together. But in a time of widespread corruption and greed, there are plenty of profit-hungry organizations who want to use the Greenfingers for their own ends. And not everyone would like to see the Earth saved…
As they navigate first love and family expectations, can the three teenagers pull off the ultimate heist and bring about a green rising?
Chat with the Author
Mary: First, you've written quite a few novels that have sold in several languages! And over 200,000 copies. At what point in your writing (or was it gradual?) that you decided you wanted to tackle the subject of climate change and other natural disasters on Earth? How many of your novels relate to that theme?
Lauren: I studied chemistry and physics at university, so my books have always included lots of science. I've written about space, extinction, and AIs. I've always wanted to write about climate change too, but I could never find a 'way in'. It's such a huge, complex topic that I didn't know how to tackle it in a way which felt uplifting. My writing is primarily character and story-focused. It's funny and romantic (I hope!). That tone felt impossible to capture in a book about climate change, a topic which is discomforting at best and soul-destroying/terrifying at worst.
And while it's a huge issue that should be treated seriously, the best stories are those which are enjoyable to experience. Those books reach the widest audience, having a better chance of spreading awareness of the climate crisis. So it took me a while to find a story that would work—eventually I got there with Green Rising!
Mary: I'd like to talk about the book you mentioned, Green Rising, your latest novel. It's a YA climate-change thriller, right? With a bit of romance thrown in? What else can you tell us without spoiling the novel?
Lauren: I describe it as The Martian meets Succession. It's a political sci-fi heist where magical teens launch a global rewilding, from space! Set in a near-future world on the brink of ecological catastrophe, chaos begins when teenagers start growing plants from their skin. Trees appear in the street. ATMs are broken open with vines. All the TikTok cool kids start wearing flower crowns.
Inevitably, corporations try to exploit the magical powers of the "Greenfingers". As fuel companies race to turn the plants into energy, a tech billionaire pursues a research project to use the plant magic to terraform Mars.
A trio from different backgrounds team up to infiltrate the highest ranks of these companies and pull off the ultimate heist: saving the planet.
They seize the International Space Station and coordinate a global uprising from space, enlisting teens across the world to help reforest the rainforests, de-plastic the oceans, and restore natural habitats across the planet. It shows the positive changes we can make to the environment which will help store carbon in huge quantities, often through plants: kelp forests, peatlands, and reforestation.
Mary: You also run Climate Fiction Writers League. How did you get that started, and what are your goals?
Lauren: I had to do a lot of research into climate change while writing Green Rising, and it really inspired me to get more involved in climate activism. I was also trying to read as many climate fiction titles as possible and realised there are very few resources out there.
I was inspired in part by the Women Writers Suffrage League, a UK-based awareness-raising organization, founded in 1908 and disbanded in 1918 after the UK granted (some) women the right to vote. The League's prospectus asserted that "A body of writers working for a common cause cannot fail to influence public opinion."
I founded the Climate Fiction Writers League, an organisation of over a hundred climate writers. I run a biweekly newsletter of essays about climate writing, in order to encourage readers to take action. Fiction is one of the best ways to inspire passion, empathy, and action.
It's been really positive seeing how many people are thankful for the group, and it's already led to some amazing opportunities for our members to get more involved in activism. I think it's made me feel a lot less scared about the future too, because I'm doing something positive to help.
Through the League I've started working as a climate storytelling consultant for publishers, production companies and museums, as well as collaborating with researchers and scientists. I hope to expand the group by hiring an assistant to help me with the administration, and apply for Arts Council funding to hold workshops and provide class sets of our authors books.
And we're still accepting new members—anyone who has written a traditionally published novel about the environment is welcome to apply.
Mary: Thanks for the information. As part of the organization, I had the awesome opportunity to sit in with you and other authors at last year's CYMERA Festival in Scotland and have gotten to know other writers while volunteering for interviews and social media. It's a great network of activist writers.
But back to the book! Your characters, Gabrielle, Hester, and Theo, along with many other teens, develop a neat new power to grow plants from the skin. How did you come up with these diverse characters?
Lauren: I really wanted to capture a mix of responses to the climate crisis but without having any characters being totally uneducated about the topic—I feel like that's unrealistic in this time, when we're all very aware of the future we're facing. Hester starts out the novel as someone who is against climate action, but she considers herself very educated and engaged on the topic and can debate very well on it. She's been raised by an oil tycoon, so she knows all about the economical and political background of the climate issue.
Meanwhile, Theo is a fisherman's son, and he is aware of the need for climate action but isn't very educated about the topic. He just knows that action needs to be taken, even though he doesn't know what or how it would be possible.
Gabrielle is a climate activist, and she knows what needs to be done, and specifically is willing to break the law to do it. She sees it as an ethical responsibility.
Their views all change over the course of the book. It was difficult to construct character arcs for them that felt realistic and build those arcs into their cultural upbringing. I wanted it feel genuine to the experience of becoming more involved in climate issues.
Mary: It's so cool that you've created literary characters similar to the many teens and young adults around the world who are pushing for climate-change mitigation. How important is it to have fictional stories, along with real ones?
Lauren: I'm really inspired by young activists working to raise awareness of important issues, like Amika George and Greta Thunberg. It's hugely brave to make a stand like that at a young age. I definitely would have been too self-conscious to try! I admire them a lot.
I really wanted to write about characters who are actively working to slow climate change, rather than writing a story showing the terrors to come. I'm not interested in dark dystopias about a climate-ravaged planet. We know the dangers already. I want to read inspiring, optimistic stories that show a future where we've done things right.
The climate debate needs to move beyond fear at rising sea levels and pollution towards a more solutions-based view on climate change. I feel strongly that we should not be telling a generation of children that their future is unavoidably broken. Change is possible. The climate crisis is an urgent, yet utterly solvable issue. Our fiction should reflect that.
Mary: I think we're all familiar with the worst of societal aims trying to co-opt genuine good deeds, and this takes place in Green Rising too. Do you think as we try to go green in our world that we'll see similar things?
Lauren: Unfortunately, yes. I think we already are, with billionaires trying to use their fortunes to go to space and ignoring things they can do on Earth. I parodied this through the character of Edgar Warren, a tech billionaire who made his fortune young through bitcoin and is now using it to start a colony on Mars. He's awful, which is always so fun to write!
There are lots of news articles in the book that include headlines for climate articles, which were all inspired by real life headlines I'd see, such as water shortages being sold as a commodity in Wall Street to make money by people trading stock futures. I was trying to pitch things happening a few decades from now, but several of the ideas happened during the writing process itself. In particular, I remember reading about a spate of mystery elephant deaths in Botswana, and adding it into my draft as being a result of climate change. A few months later I checked the news and found out that there it actually was due to algae blooms in their water sources from heat waves.
Mary: I have often found real-world news like that and worked it into fiction. Are you working on any new projects?
Lauren: My next novel is a contemporary YA murder mystery, set in sun-drenched LA, about a long-forgotten fandom conspiracy theory and the lingering after-effects it has on a privileged bubble of high-society Hollywood teens (and their very famous parents). The backstory of the conspiracy theory has already been released as a free online novella, An Unauthorised Fan Treatise, which you can read at gottiewrites.wordpress.com. The novel is out in 2023. Stay tuned for more info (my newsletter is here).
Mary: Is there anything else you want to add?
As individuals, we can't do anything about climate change. But as a collective we have the power to make change. Make sure you are adding your name to that collective, so the people doing the active work have enough clout to get noticed. It takes around 3.5% of the population actively participating in protests to ensure serious political change. That's such a small amount. We can do this.
Resource: https://bbc.com/future/article/20190513-it-only-takes-35-of-people-to-change-the-world
Some important things you can personally do, right now:
Check your bank/savings/pension scheme isn't investing your money in fossil fuel companies
Change your energy supply to a green energy tariff
Find a climate action group in your profession & sign up for their newsletter
Mary: Thanks so much, Lauren!
About the Author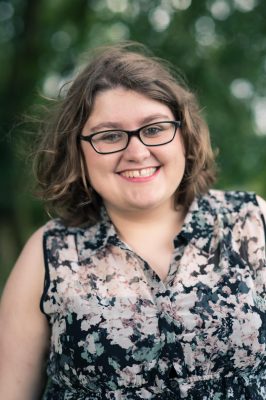 Lauren James is a twice Carnegie-nominated British author of many Young Adult novels, including Green Rising, The Reckless Afterlife of Harriet Stoker, and The Loneliest Girl in the Universe. She is a RLF Royal Fellow, freelance editor and screenwriter. Her books have sold over two hundred thousand copies worldwide in seven languages. The Quiet at the End of the World was shortlisted for the YA Book Prize and STEAM Children's Book Award. Her other novels include The Next Together series, the dyslexia-friendly novella series The Watchmaker and the Duke, and a serialised online novel An Unauthorised Fan Treatise. Her writing has been described as 'gripping romantic sci-fi' by the Wall Street Journal and 'a strange, witty, compulsively unpredictable read which blows most of its new YA-suspense brethren out of the water' by Entertainment Weekly.
Lauren is the founder of the Climate Fiction Writers League and a member of the Society of Authors' Sustainability Committee.
She was born in 1992 and has a Masters degree from the University of Nottingham, where she studied chemistry and physics. Lauren is a passionate advocate of STEM further education, and many of her books feature female scientists in prominent roles. She sold the rights to her first novel when she was 21, whilst she was still at university. Lauren lives in the West Midlands and is an Arts Council grant recipient.  She has written articles for numerous publications, including the Guardian, Buzzfeed, Den of Geek, The Toast, and the Children's Writers and Artist's Yearbook 2022. She taught creative writing for Coventry University, WriteMentor, and Writing West Midlands.