Click here to return to the series
The global novel exists, not as a genre separated from and opposed to other kinds of fiction, but as a perspective that governs the interpretation of experience. In this way, it is faithful to the way the global is actually lived–not through the abolition of place, but as a theme by which place is mediated. Life lived here is experienced in its profound and often unsettling connections with life lived elsewhere, and everywhere. The local gains dignity, and significance, insofar as it can be seen as a part of a worldwide phenomenon.
-Adam Kirsch, The Global Novel: Writing the World in the 21st Century
---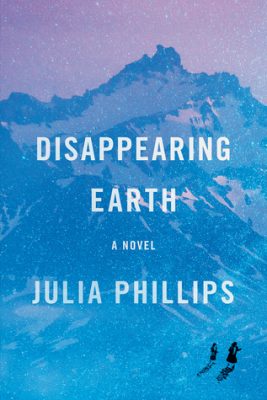 This month's spotlight goes to a country not showcased before in the world eco-fiction series: Russia, specifically the Kamchatka peninsula, which dips down from the far eastern coastline of the country and lies between the Sea of Okhotsk and the Bering Sea. It was a pleasure to chat with Julia Phillips about her debut novel Disappearing Earth, the first edition of which was published by Knopf in May 2019. Disappearing Earth was a finalist for the National Book Award in 2019 and a national bestseller, among other accolades.
I read about the novel in Michigan Daily, where writer Emily Yang spent the first paragraph talking about novels about climate change and the difficulty of writing about them. When I spoke with Julia about this, I asked her if she thought it was hard to write "about" climate change, and she said:
I think it's hard to write a novel in general! But there are brilliant novelists who are writing all about climate change with enormous insight and skill. Pitchaya Sudbanthad, Octavia Butler, Barbara Kingsolver, Margaret Atwood, Claire Vaye Watkins, and Jeff VanderMeer all come to mind.
She elaborated later that climate change was not a motivation for writing her novel other that in a general sense these characters live in our real world in which climate change, war, hardship, and so on exist. The beauty of eco-fiction is that natural landscape can strongly shape and motivate the story, which can be vividly magnetized to the geography, seas and rivers, forests, and local biome surrounding the human activity within. Connecting to the physical environment and bringing it to the story is central in Disappearing Earth, even though the novel itself is about child kidnapping, racism, misogyny, and other social crises/crimes that may be just as hard to write "about" as climate change, but which Julia succeeds at expertly.
About the Book
From Julia Phillips' website: One August afternoon, on the shoreline of the Kamchatka peninsula at the northeastern edge of Russia, two girls–sisters, eight and eleven–go missing. In the ensuing weeks, then months, the police investigation turns up nothing. Echoes of the disappearance reverberate across a tightly woven community, with the fear and loss felt most deeply among its women.
Taking us through a year in Kamchatka, Disappearing Earth enters with astonishing emotional acuity the worlds of a cast of richly drawn characters, all connected by the crime: a witness, a neighbor, a detective, a mother. We are transported to vistas of rugged beauty–densely wooded forests, open expanses of tundra, soaring volcanoes, and the glassy seas that border Japan and Alaska–and into a region as complex as it is alluring, where social and ethnic tensions have long simmered, and where outsiders are often the first to be accused.
In a story as propulsive as it is emotionally engaging, and through a young writer's virtuosic feat of empathy and imagination, this powerful novel brings us to a new understanding of the intricate bonds of family and community, in a Russia unlike any we have seen before.
​Spellbinding, moving–evoking a fascinating region on the other side of the world–this suspenseful and haunting story announces the debut of a profoundly gifted writer.
Chat with Author
Mary: Thanks for talking with me about your novel Disappearing Earth. You visited Kamchatka on a Fulbright grant while writing the novel. What are your weirdest or favorite memories of the place?
Julia: Every memory of Kamchatka is my favorite! It is such a special place. Getting together the funding to go there was a challenging and long process for me, so finally visiting was a dream come true. A memory that stands out is one of my last ones from my time there: in 2015, I was lucky enough to spend some time with a group of reindeer herders as they grazed their animals through the center of the peninsula. Riding horses with those herders through the summertime tundra is an experience I'll never forget.
Mary: This spotlight series goes around the world to explore ecologically and environmentally (often placed-based writings) in fiction. I found Disappearing Earth to be, partly, a novel of brilliant nature writing in that you describe the physical landscape of the coastal town of Petropavlovsk on the Kamchatka peninsula in beautiful and sometimes haunting detail. Can you tell us your thoughts on writing about this place and how the novel's characters are so intrinsically tied to the landscape?
Julia: Kamchatka is an incredibly compelling setting. Before 1990, Kamchatka, as home base for the USSR's Pacific Naval Fleet, was classified as a closed military zone; no foreigners were permitted there and even Russians needed special dispensation to visit. It was an isolated area of an already insular state—an intensified version of mainstream Soviet culture's self-reliant course. After the Soviet Union collapsed, though, restrictions on Kamchatka were abandoned. The peninsula's undeveloped land, rich natural resources, and distance from the government's seat in Moscow made it attractive to everyone, from foreign investors to adventure tourists to poachers. Suddenly globalized, radically changed, Kamchatka remained a microcosm of its nation, which now had a different name. I am so interested in writing about how Kamchatka's unique history shapes its residents, and how, more generally, the places we all exist in shape us, informing how we perceive ourselves, each other, and the world.
Mary: Regarding the ecological landscapes in the story, which tie so closely to the people's livelihoods, do you have any knowledge of particular places in this area of Russia that are modernly undergoing environmental crises? How do these issues affect the local people?
Julia: I recommend with all my heart reading Bathsheba Demuth's recent book Floating Coast, which gives an environmental history of the Bering Strait. In it, she looks closely at the Bering coast of Russia, especially at Chukotka, the region north of Kamchatka. The exploitation of Beringia's lands and waters through centuries of commercial whaling, mining, and oil and gas drilling have resulted in an enormous environmental crisis. The landscape in these areas is changing quickly, with disastrous effects for the people and animals who live there.
Mary: Thank you for that recommendation. It seems the same issues echo all over the world, but it's interesting to both zoom in and pan out.
The chapters of Disappearing Earth are organized into months and visit different peoples in the area–each of these overlapping vignettes offering a glimpse into relationships, isolated communities, families, and survival. What was your end game, and how did you so deftly sew it all together?
Julia: This novel is structured polyphonically, with every chapter focused on a different woman's point of view, because it is intended to explore the spectrum of harm in women's lives—from the rare and highly publicized (an abduction by a stranger) to the mundane and hardly spoken about (a difficult doctor's appointment, a social slight). I wrote Disappearing Earth to run the range of violence in contemporary womanhood, because I'm fascinated by how those hurts echo each other, overlap, and connect us.
This novel is the story of a group of people, a whole community affected by a single event, so I tried in every chapter to draw out the connections between characters. Their shared experiences were just as crucial as their unique qualities in moving the plot forward. To me, the moral argument of the book is that we survive by coming together. In our most desperate moments, we save, and are saved by, each other.
Mary: I agree, and have seen this conclusion in talking with several authors, especially as our Earth continues to even more literally "disappear".
In the novel, native peoples are disparaged by others–seen as outsiders, similar to immigrants–even though they were on the land first. Women, especially, are victims of rape and violence. This seems to be an important theme in the novel, so much so that another missing girl, who is indigenous, does not draw as much attention as the girls kidnapped in the first chapter. What are your thoughts on this and how fiction can bring these tough subjects closer to the heart?
Julia: Race-, ethnicity-, and gender-based violence is currently a fact of life in colonized and patriarchal societies like Russia and the United States. Art is crucial to exploring the dynamics of those societies, questioning what dangerous power dynamics are being upheld, and arguing for a better, safer, and more equitable way to live. I think fiction is an extraordinarily effective tool for increasing readers' understanding of the people around them and moving them to connect with others in order to demand change.
Mary: I found myself immersed in this isolated and almost accessible land, but at the same time felt the story portrayed vibrant women, a palpable passage of time, and a delve into genuine stories that feel all too real. I just wanted to congratulate you on this novel; it's clear that many readers are reviewing the novel highly and found within an imaginative and brilliant string of stories that drew together in the end. Are you planning any other novels at the time?
Julia: Thank you so much for this kindness, Mary. It means everything to me. I'm working now on another novel that's set closer to home for me, but explores many of the same themes as Disappearing Earth—the intertwining of gender and violence, the impact of social isolation, and the potentially healing power of community.
Mary: Thanks for your generous time in answering these questions, and congratulations on your fantastic debut novel!
About the Author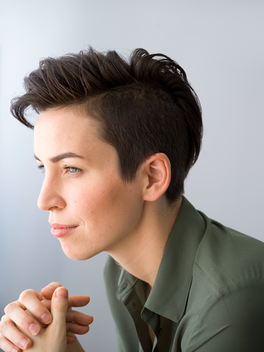 Julia Phillips is the debut author of the nationally bestselling novel Disappearing Earth, which is being published in twenty-one languages and was a finalist for the National Book Award. A Fulbright fellow, Julia has written for The New York Times, ​The Atlantic, and The Paris Review. She lives in Brooklyn.