---
Welcome to the 30th spotlight on authors tackling climate change in fiction. We continue with the YA/teen focus, certainly timely right now as youth have entered the front lines on fighting climate change. This week, on March 15th, is an international march with thousands of students from dozens of countries planning to skip school and call for government action. Swedish teenager Greta Thunberg helped to spur this action last year, though before that youth were already in the arena. It's such a positive and hopeful sign, and quite naturally literature continues to remark on such issues. This week we look at works by D.G. Driver, author of The Juniper Sawfeather trilogy, a series of fantasy novels showing how a native American teenager, Juniper, deals with oil spills, logging, and endangered orcas.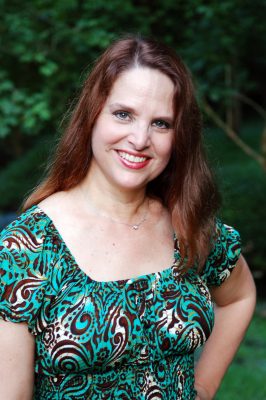 D.G. has a degree in theater arts from U.C. Irvine. Her first short story was published in Catalyst Magazine, and her first original play was produced in Los Angeles. She is an actor and enjoys community theater in Nashville. She's also a special education teacher in the same city and has written the novel No One Needed to Know, inspired by an autistic brother. D.G. is a presenter who explores environmental themes in novels, speaking at schools, libraries, and special events. She has spoken at Middle TN Youth Writing Workshop (at MTSU), Alabama School Library Association conference, Wizard World Comic Con Nashville, Southern Kentucky Festival of Books, LibertyCon, Chattacon, and Hypericon. D.G.'s Juniper Sawfeather series (Fire & Ice Young Adult Books) has been nominated for the Purple Dragonfly book award, Green Books/Environmental award, and Green Book Festival award. You can learn more about D. G. Driver's books here.  Find excerpts, reviews, and links to all booksellers. The box set is available at Amazon.
I was always impressed by D.G.'s positive ratings on Goodreads and her genuine enthusiasm on various social media, and knew that her novels would be exactly what I was looking for as a teenager. Even as an adult I enjoy them! So I was happy to finally catch up to D.G. and talk with her about the trilogy.
Mary: Can you describe for our readers what's happening in your Juniper Sawfeather trilogy?
D.G.: This series is about a teen environmental activist who discovers mythical creatures tied to her American Indian heritage during her efforts to protect the natural world. In the first book, Cry of the Sea, we meet Juniper as she and her father rush to the beach to report damage of an oil spill off the Washington coast. They discover real mermaids washed up on the beach. It becomes Juniper's mission to protect these creatures from being exploited by the media or murdered by the oil company.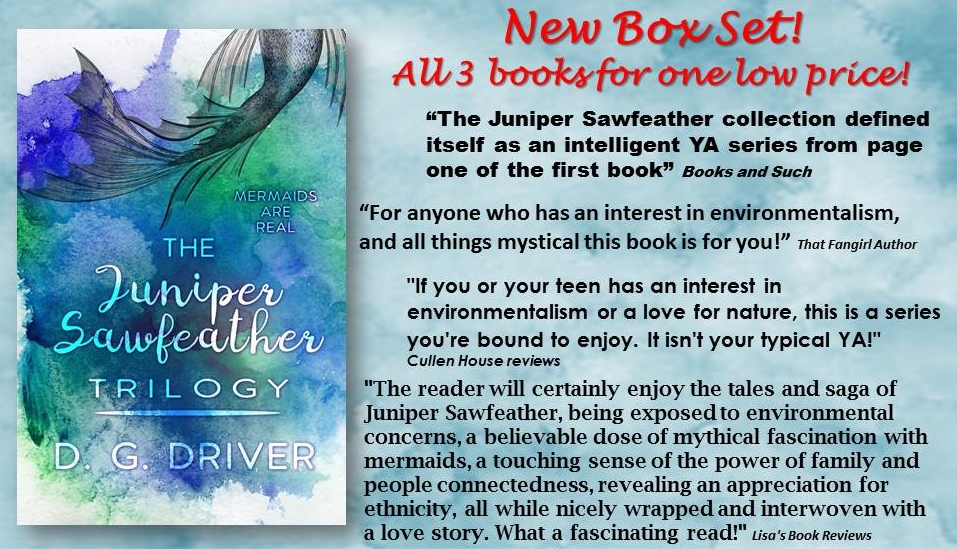 The second book, Whisper of the Woods, takes Juniper and her activist parents to a protest against the logging of old growth trees. The oldest tree of all seems to be calling to her, and soon Juniper finds herself trapped 170 feet up in its branches by an ancient tree spirit. She learns in this book of an American Indian myth that ties the tree spirit and the mermaids together.
In the final book, Echo of the Cliffs, Juniper is determined to find the 3rd part of the myth: a warrior that has been turned into stone. Her family is now fighting construction pollution that is killing orcas and other sea creatures. One of her loved ones goes missing, and it might be vindictive mermaids that have captured him. Why would they do this and how does it tie to the myth? It's the most exciting book of the three with a thrilling ending.
Mary: What are your thoughts on environmental issues and climate change in fiction?
D.G.: When I originally came up with the concept for my first novel, Cry of the Sea, I didn't intend for it to be an issue-oriented book. It was born out of a "what if?" idea during the reporting of the 10-year anniversary of the Exxon-Valdez oil spill. I thought: what if mermaids were caught up in an oil spill? During the time that I was writing the novel, the Gulf oil spill happened, and there have been subsequent spills since then. In addition, we have all the dangers of ocean pollution, construction pollution, and of course the crisis with plastics in the ocean. By making Juniper and her parents environmental activists, I was able to weave facts about environmental issues into the stories organically without having them be forced. In this way I can make young readers aware of the issues without preaching. Hopefully, in addition to enjoying the action, they are learning something valuable. I believe that teens are very aware of the dangerous future ahead due to climate change, and characters like Juniper Sawfeather can hopefully give them some motivation to help make a difference.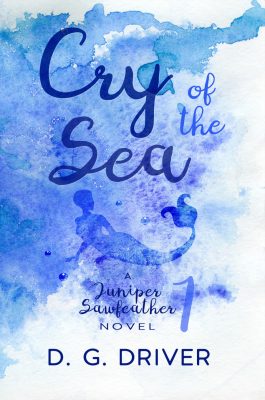 In the final book, Echo of the Cliffs, there is a scene where Juniper and her boyfriend Carter are helping with some water testing. They get to chatting about ocean pollution. Here's an excerpt:
"Did you know that there's a mass of plastic garbage the size of Texas in the middle of the Pacific Ocean?" Carter said.

I patted his curly blond hair. "You're so cute trying to tell something like that to the daughter of Peter and Natalie Sawfeather."

"What? You knew?" He acted dumbfounded, and I laughed.

I leaned over so I could drag my hand through the cold water and let it trickle off my fingers. "Actually, the island of plastic trash is a myth. Plastic doesn't biodegrade, but it does slowly break down into small bits, sometimes microscopic, and is spread out all over the ocean. It's estimated that there's 25,000 microscopic pieces of plastic per square mile in the ocean. It's impossible to clean up. The sea animals are eating it. We're eating the sea animals."

"So, we're basically eating our own trash."

"Yep."

"Mind if I use all of that info for my paper in Environmental Studies?"

"You can use my whole essay. I learned all of that for an assignment in school last year."

Carter glared at the construction site. "My dad has to do something about what's happening here. We might not be able to fix the whole ocean, but we don't have to add to the problem."

"I hope this evidence will make a difference for him."
Mary: Who are some of your favorite characters?
D.G.: Juniper Sawfeather is the star of my story, and I love her so much. She's headstrong, smart, and often very stubborn. She doesn't really fit in with high school-minded people and is ready to move on to college and, hopefully, a career in marine biology. She both respects her parents and is embarrassed by them, especially her mother.
Carter Crowe is a freshman in college and an intern at the marine rescue center where the mermaids are brought. He's handsome and driven, a perfect match for Juniper. Their relationship grows and is tested throughout the series.
My other favorite character is Juarez Pena. He's an open-minded news reporter who has been a big supporter of Peter and Natalie Sawfeather (Juniper's parents) when other reporters have refused to cover their protests. He believes Juniper about the mermaids, sight unseen, and is extremely helpful with the rescue attempt. Juarez winds up becoming pretty obsessed with finding the mermaids, though, and that leads to a whole subplot that is very important in the final story.
Mary: What environmental fiction stories inspired you as a child?
D.G.: I'm not sure I recall reading anything that I would consider environmental fiction as a child. I grew up in the 1970s-80s. I didn't discover Dr. Suess's The Lorax until I was an adult. I was also already an adult when I first read Hatchet. I did read Island of the Blue Dolphins and enjoyed it.  As a young reader, 2nd through 4th grade, I was a big fan of animal books like Black Beauty and Bambi. These books gave me an appreciation for nature and caring about animals.
In 6th grade I became a huge fan of Harriet the Spy. I think of her as my first "activist", someone who was determined to know things and learn how the world worked. Someone who stood up against mean people and had to learn a thing or two about how to get what she wanted without hurting people in the process. I've always been drawn to characters like her, and I think Juniper was born out of wanting to write a strong female lead with determination and a cause.
In my twenties I read Legacy of Luna, an autobiography about Julia Butterfly Hill, a woman famous for protecting old growth trees. Her story directly inspired book two of the Juniper Sawfeather series, Whisper of the Woods.
Mary: I also enjoyed many of these stories and am secretly thrilled every time an author mentions Island of the Blue Dolphins, my favorite novel as a young girl. What experiences or feedback have you had from your readers?
D.G.: To my great joy, I've had a couple young readers tell me that they are interested in pursuing careers in marine biology thanks to reading Cry of the Sea. Reviewers have been very supportive of the books and often comment on how well the environmental themes are woven into the plot–that the books make the reader think about ocean pollution or the timber industry without taking them out of the story. Cry of the Sea won two literary awards for its environmental awareness theme. I like when readers let me know that they are going to try harder to do more about conserving their use of plastics, not littering, and recycling more often.
Mary: That's wonderful feedback. Is there anything else you would like to add?
D.G.: Most people are drawn to Cry of the Sea initially because of the mermaid on the front cover, and I think they're surprised to find that it is very different than other mermaid books. It's not a paranormal romance. My mermaids don't talk. They don't grow legs and walk around on land. They are sentient sea creatures, and Juniper makes it her mission to protect them and defeat the oil company's plans to destroy them.
Another thing that surprises people is that the mermaids are not in book two, Whisper of the Woods. The series follows the adventures of Juniper, wherever they take her. Readers should stick with the series, though. The mermaids come back with a vengeance, joined by some shape-shifting killer whales, in the final volume: Echo of the Cliffs.
Mary: Thanks so much for talking about your novels. I'm looking forward to seeing more!