---
When I first talked with author Brian Burt a couple years ago, we sat in on a SFF World panel about climate change in fiction, and I was surprised at the things we had in common: we both hail from Indiana (go Hoosiers!), still dream of our golden (albeit separate) journeys to Ireland, and love red wine. And we like cycling and hiking. After a few talks about writing, I invited Brian to become a moderator at our Google+ newsgroup, "Ecology in Literature and the Arts." Despite things in common, I was even more impressed that a debut novelist had had such success at creating a following for his books.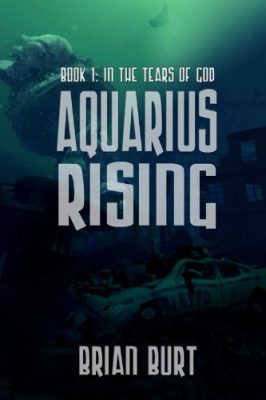 Brian's Burt's biography: While on a consulting assignment in Dublin, Ireland, Brian became sufficiently inspired by the magical scenery and the rich literary tradition to try writing his own short stories. He had more than twenty science fiction and fantasy tales published in small press anthologies, genre magazines, and online publications over the years. Along the way, a short story entitled "The Last Indian War" won the Gold Award (grand prize) in the Writers of the Future Contest, and a dark fantasy story called "Phantom Pain" received an honorable mention in The Year's Best Fantasy and Horror, edited by Ellen Datlow and Terri Windling. These encouraging experiences finally gave him the motivation to try his hand at a full-length novel.
That debut novel, Aquarius Rising Book 1: In the Tears of God, won the 2014 EPIC eBook Award for Science Fiction. It was followed by Aquarius Rising Book 2: Blood Tide, also released from Double Dragon Publishing, which won the 2016 Readers' Favorite Gold Award for Science Fiction. Book 3: The Price of Eden was recently published. This trilogy of novels stems from Brian's passion for environmental themes, exploring a potential future in the wake of accelerating climate change when a disastrous attempt to reverse global warming goes horribly wrong. The series focuses on human-dolphin hybrids called Aquarians, who have built thriving reef communities among the drowned human cities along the coasts but are caught in an escalating struggle with human scientists determined to restore the continental wastelands at any cost.
From the following passage in the trilogy, you might see how hard it is to put these books down–how myth-building to page-turning thrill starts to suspend the reader immediately.
We were born in the tears of God.

When the First Creator wept at the fate of His Creation, His tears fell like burning rain to melt the polar ice and swell the seas, the cradle of all life. His grief swallowed the mighty human cities of the coast and gave them over to the realm of Mother Ocean. Humanity, who did not aggrieve the Maker out of malice but out of ignorance, wished to atone for their sins against the Earth. We are that atonement. We are Humankind's offering to the First Creator, the Maker of All. The Great Father-a man, and nothing more-crafted his transforming virus and infected his own kind, so that we might be born as the children of Man and Mother Ocean. Humanity became the Second Creator, Aquarius the Second Creation, and we the stewards of its bounty.

We owe much to Man, who is our father and our brother. We must honor our debt to him. But we must always remember this: he who has the power to Create also has the power to Destroy.

– Delphis, Third Pod Leader of Tillamook Reef Colony, from a speech to commemorate the Fiftieth Aquarian Birth Day
You can read excerpts of the first two books at the Dragonfly Library, here and here.
In the series are various human and hybrid species living in a futuristic world where global warming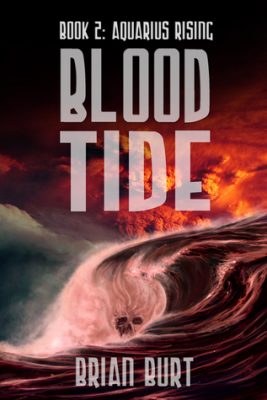 and geo-engineering have greatly altered the planet ecologically and socially. Earth's land is irrevocably dry and barren, making survival harsh. Seas have risen and slashed the coastal populations with devastation. Scientists create human-dolphin hybrids that can adapt to a climate-changed world. The creation of hybrids, however, also introduces class differences and other battles among different factions–and, unlike in some climate novels where technology has gone by the wayside, this series has developed science such as bio-tech and chemical warfare.
In the first book, human-dolphin hybrids called Aquarians are living among reef colonies where cities used to be. Ocypode the Atavism, a genetic throwback, holds the key to why the Aquarians begin dying to an "invisible weapon" known as the Medusa Plague. Ocypode works with allies to save the coasts and their inhabitants. In Part II, Blood Tide, Megalops (an Aquarian) seeks revenge for losing his wife and daughter to the plague; he unleashes a Vendetta Virus that turns live humans into Aquarian corpses. Ocypode, hero from the first book, battles again to stop Megalops's genocidal plague. In the final book, Price of Eden (published in June 2017), the civil war has caused mass casualties and triggers further hostility. The tribes of whales who "sing an ancient prophecy of Storm-Slayer, a legendary child of Mother Ocean and Mother Earth, who is destined to defuse the conflict and save the world" offer hope. In the end, we see rays of peace, but at what cost?
Brian's world-building is unique, and numerous readers have given kudos to the trilogy.
I was also impressed with Burt's imaginative ideas about biosculpting,  or what we might call species manipulation. Over and over, throughout the story, we see examples of creatures altered in stunning, horrifying, and amazing ways to serve the needs of the plot.
Readers should anticipate a heady combination of action and intrigue based on the events of Book One, in a post-apocalyptic setting that questions heroes, leaders, and a looming war between Mother Earth and Mother Ocean. Based in a world that's survived climate change, the impact of loneliness, life-or-death decision-making processes, and the effects of ongoing conflict illustrate the very different challenges of handling interactions between two worlds almost inhabiting the same body of Earth, making Blood Tide a top recommendation for readers who like 'climate change' dystopian stories with more than a dose of philosophical reflection paired with nonstop crisis mode style action.
-Midwest Book Review
The rich descriptions of the world envelope one's senses with ocean beauty, kelp forests, and fantastical creatures dancing in the light and shadow.
When I asked Brian about this trilogy, he said:
The last novel in my Aquarius Rising trilogy (Price of Eden: http://www.briantburt.com/novels/price-of-eden.html ) ends on an optimistic note, despite the sometimes dark currents that flow through the trilogy in general. I think this is vital, personally. There are so many sources of dismal news, so many depressing scientific developments; I think it's crucial to look for a light in the darkness, to emphasize that we as a species still have a chance to chart a course to a better future rather than a dystopia.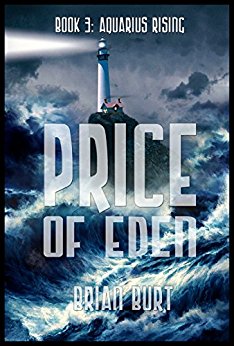 He is not the only author with belief in human survival, despite the ecological catastrophes we have brought on. He also writes psychological suspense and plays with our heart strings when it comes to recognizing both difference and similarities among individuals–and encourages that during disaster if we work together, rather than apart, we might just have a chance.
And Brian recognizes that he is not alone as an author writing about climate change. In his article "Can Eco-fiction Turn the Tide?" he writes:
Can fiction of this kind succeed where raw, unadorned facts have failed to convince so many Americans? I don't honestly know. But I do believe in the power of story, of imagination, to move us. So do many, many fiction writers across many genres. Climate change is daunting when it acidifies our oceans, destroys ancient reefs, melts polar ice, and leads to relentless sea level rise that threatens to swallow coastal cities. Let's hope that the combination of science fact and fiction can succeed where either, alone, seems doomed to fail.