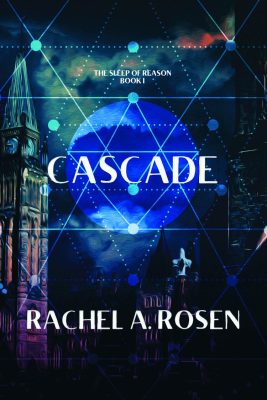 Rachel A. Rosen's debut novel, Cascade, has been described as magic realism, climate fantasy and, as its publisher prefers, fantasy that feels like science fiction. Set in a terrifying but all-too believable near future and leavened with a dry wit, Cascade features a cast of fully realized characters drawn into conflict with each other as they each strive to do the right thing.

2022's Cascade is the first volume in Rachel A. Rosen's The Sleep of Reason near-future fantasy apocalypse series. Everyone with even a rudimentary education knew about climate change, ocean acidification, and sea level rise. However, the sudden outburst of actual magic twenty years ago (the Cascade) came as a total surprise. Reactions varied from country to country, region to region. Vasai Singh saved Indian cities by elevating them above the flood waters, while the US collapsed into a patchwork of smaller nations unpleasant in various ways. Canada? Canada continued on with business as normally as possible, under the circumstances.
Read the full review at James Davis Nicoll's Reviews.