Click here to return to the world eco-fiction series
The global novel exists, not as a genre separated from and opposed to other kinds of fiction, but as a perspective that governs the interpretation of experience. In this way, it is faithful to the way the global is actually lived—not through the abolition of place, but as a theme by which place is mediated. Life lived here is experienced in its profound and often unsettling connections with life lived elsewhere, and everywhere. The local gains dignity, and significance, insofar as it can be seen as a part of a worldwide phenomenon.
-Adam Kirsch, The Global Novel: Writing the World in the 21st Century
---
About the Book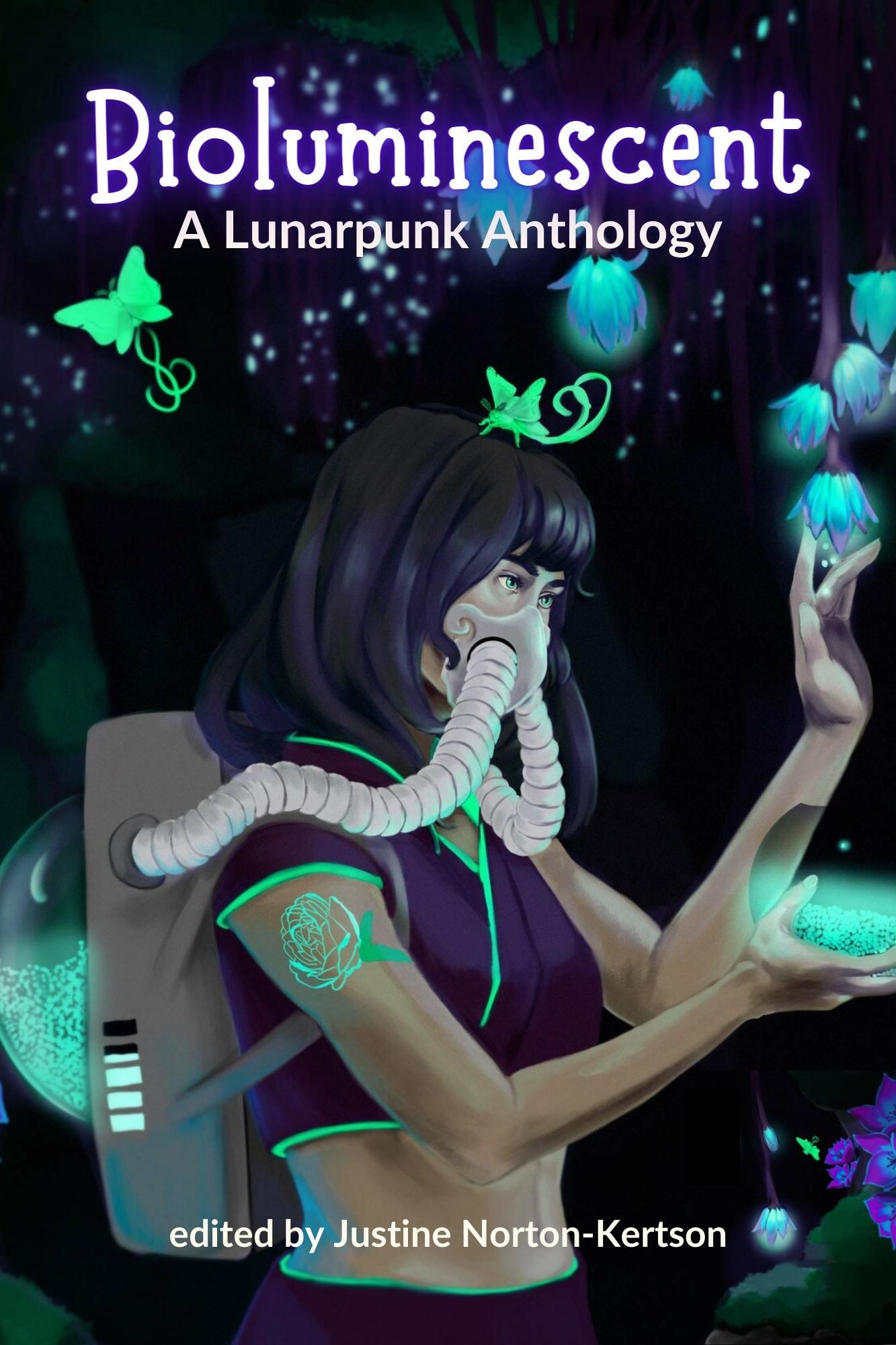 Bioluminescent: A Lunarpunk Anthology (Android Press, 2023; ordering): From space witches and communities of pagans finding harmony with nature to ecotopias aglow with bioluminescent plants, this first ever lunarpunk anthology brings a more spiritual, magical, and fantastical side to solarpunk worlds still set within the context of the climate crisis, the struggle for solutions to global social problems, and the movement to build more resilient communities. The anthology features stories and poems by Sarena Ulibarri, Wendy N. Wagner, Neil Gaiman, Jennifer Lee Rossman, J.D. Harlock, Pedro Iniguez, and more!
Chat with the Editor
Mary: You've done so much good work around Portland. Can you tell us what you do, and where you grew up?
Justine: I grew up in Southern California near the US-Mexico border, out in the foothills about twenty-five miles east of San Diego. I lived in the L.A. area for about a decade in my late teens and 20s, and then in 2009 during the big recession, my partner and I were chasing jobs and ended up moving to Portland with our kids.
When I first came to Portland, I was a high school history, economics, and U.S. government teacher. That didn't work out (again, the recession) so, jobless and frustrated, I got involved in Occupy Portland and then really delved into community organizing work over the next decade. I was really involved with Don't Shoot Portland, and became the lead organizer for 15 Now PDX and the campaign manager for Oregon's statewide $15 ballot measure, which helped win a $15 minimum wage (albeit over an extremely long phase in) for over 25 cities in the Portland metro area.
From there I got involved in eviction and houseless camp defense as well as labor organizing. I worked with labor unions for a couple years where I worked on the then unsuccessful attempt to unionize New Seasons Market. Then I spent four years as the Solidarity Organizer for Portland Jobs with Justice where I ran community defense training and helped organize rallies and protests, strikes, sit-ins, and other direct actions.
Mary: You also run Solarpunk Magazine. What has that experience been like?
Justine: Starting and running Solarpunk Magazine has been a blast, and so rewarding.
Mary: Speaking of solarpunk, what is it, exactly? I've been reading about it since 2015 but still don't know how to explain it. I just know that it's exciting and really took off.
Justine: A good user-friendly definition that I really to use, which is taken from one of solarpunks founding authors and strategists—Jay Springett—is that solarpunk is:
A movement in art, literature, fashion, architecture, and activism that seeks to embody and answer the question, "What does a sustainable world look like, and can we get there?"
That's pretty broad, but purposefully so. The possibilities that fall within that definition might not be endless, but they certainly aren't in short supply either.
Mary: You also work with a newer genre, lunarpunk. I've read some fungi fiction in the past and love moonlight aesthetics, but lunarpunk seems bigger than that. Can you talk about it some?
Justine: Lunarpunk is a subgenre of solarpunk, so they have quite a bit in common. Of course, there are differences too; otherwise, there wouldn't be a distinction. Where they overlap is in ideology and message. Both focus on climate change and solutions that involve technology and/or systemic change with some kind of equitable and just transition, as well as a focus on communities and people working to build a better and more sustainable future.
Where solarpunk and lunarpunk primarily differ is the aesthetic that's found in the art and literature within the two genres. While solarpunk tends to lean into the art nouveau style and uses bright colors like orange, yellow and gold, sky blue, as well as light earth tones like green and brown, lunarpunk is draped in silver, black, purple, dark greens, and blues. It's a darker and more gothic aesthetic.
Another difference is that while solarpunk places emphasis on community and collective action and solutions, lunarpunk leans more into introspection. Where solarpunk is about scientific solutions, lunarpunk leans into spirituality and often features characters who practice witchcraft or other Earth-based pagan religions that fit well with solarpunk and lunarpunk's focus on fostering harmony with nature. Not that lunarpunk shuns science or community solutions—not at all—but they share focus with these other elements.
Mary: Lunarpunk is central to a new anthology that you edited, Bioluminescent: A Lunarpunk Anthology. The e-book and print book published at the end of January 2023. It features authors such as Starhawk, Sarena Ulibarri, Wendy Wagner, and Neil Gaiman, and it's got such a beautiful cover. Please tell us all you can about this anthology, including something about the cover artist and illustrator.

Justine: I had a lot of fun working on this anthology. The cover art was illustrated by a really talented young artist who goes by the name Mirodemorte. I loved the image from the moment I first saw it. I honestly don't think I've seen another illustration to date that so perfectly encapsulates the heart and mood of lunarpunk.
After starting Solarpunk Magazine, I started seeing things about lunarpunk here and there on the internet—mostly art that took solarpunk in a more gothic and witchy aesthetic direction. But after pretty extensive searches, I wasn't able to find any stories that were examples of the genre, at least not recently published stories that consciously claimed the lunarpunk mantle. So, I decided to put together a lunarpunk short story anthology in hopes of helping to jump-start the genre among authors.
I kept the prompt for the Bioluminescent anthology fairly broad on purpose. The genre is so new, and I wanted authors to have the freedom to tackle it without too many pre-existing constraints. So the anthology has stories about space witches, pagan communities striving for ecological harmony, moon colonies, memory harvesting, a ghost story revolving around a beach resort long reclaimed by climate change, and more.
Mary: Something that lunarpunk and solarpunk do, as literary genres, is present solutions to not just environmental but social problems, because these two large issues go hand in hand. The idea of building resilient futures also seems to be a goal. Can you talk in particular about some examples of how this is done in Bioluminescent?
Justine: I don't think this aspect came through quite as strongly in this anthology as climate change or some of the other elements of the genre, but there are definitely works in the book that touch on other social issues. There's a costume library that plays a big role in Starhawk's novelette, The Timid Librarian, which touches on issues of equity and wealth disparity. Brazilian author Yasmin Moita's "Naiá" is a fierce poem steeped in the struggle against patriarchy and touches on the rights and struggles of Indigenous Amazonians. A number of stories in the book, including my own "The Memory Shop," have nonbinary and trans characters. Another example is Devan Barlow's "A Small Creature, Amid Trees," which touches on issues of illness and healthcare.
Mary: I'd love to know about your next project.
Justine: I have quite a bit coming up actually. I'm co-editing a solarpunk anthology with researcher and author of books on antisemitism and antifascism, Shane Burley, which will be published by AK Press sometime in later 2024 or early 2025. My debut nonfiction book, Solarpunk Witchcraft: a Solarpunk Book of Shadows, will be published in 2024 by Microcosm Publishing. Later this year the first best of utopian science fiction anthology will come out with stories originally published in other magazines and anthologies in 2022. Android Press is organizing and hosting its second annual Climate Fiction Conference in October. I'm also finishing up writing a cyberpunk-solarpunk role playing game that will be on Kickstarter this April along with a companion short story anthology edited by Phoebe Wagner.
Mary: I love your work. Thanks for looking out for everyone and for the planet.
About the Author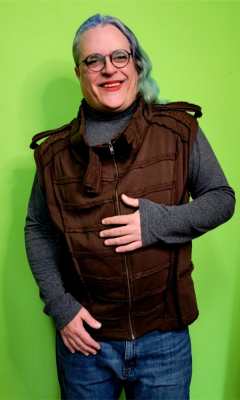 Justine Norton-Kertson is the founder and editor-in-chief of Android Press and Solarpunk Magazine. They're also an author and screenplay writer. Their fiction and poetry has appeared in Utopia Science Fiction Magazine, Jupiter Review, and others. Their debut nonfiction book, Solarpunk Witchcraft: A Solarpunk Book of Shadows, releases in the summer of 2024 from Microcosm Publishing. They live in rural Oregon with their partner and a host of goats, bunnies, cats, and pups.