We will indefinitely feature a couple of our own titles, which fit perfectly into the genre of eco-fiction. To receive a review copy of these titles, or my novella Bird Song, please fill out this form. I appreciate honest reviews as well as your support of this site.
This was a wonderful debut novel. Ms. Hume handles numerous POV characters with great skill and uses them to great advantage; she weaves a tail populated with people we care about, one that keeps the reader engaged from start to end. In between she paints vivid pictures of a world that is unravelling in the face of global warming. I was reminded of Cormac McCarthy's The Road, although Ms. Hume puts the blame for the dystopian future she paints squarely on our shoulders. It is a cautionary tale told well.
-John Atcheson, author of A Being Darkly Wise and writer at Common Dreams and Climate Progress.
A folksy tale in some unspecified future when life has become more simple and more basic, travel is harder, and people live local lives. The protagonists here live on the side of a mountain, eking out a life. They go on a journey to try to find old friends and family. Each chapter is told from the point of view of one of the protagonists. It works. It's redemptive and hopeful.
–Andrew Hobson, author of Environmental Politics
From the curator of Dragonfly.eco, we are happy to announce the final part of the Wild Mountain series. Scroll down to read more about The Stolen Child, available now in print and digitally.
Back to the Garden was also discussed in:
Sarah E. McFarland (2021). Ecocollapse Fiction and Cultures of Human Extinction. Bloomsbury Academic, pp. 12-13.
Gary Paul Nabhan (2016). Ethnobiology for the Future: Linking Cultural and Ecological Diversity. University of Arizona Press, p. 278.
Martin Bunzi (2014). Uncertainty and the Philosophy of Climate Change. Routledge, p. 175.
Recommended reading: Sierra Club
Earth Day recommended reading: Queensland University of Technology
Featured at LitHub under the fiction/poetry section of their 2019 Earth Day book recommendations
---
Part I. Back to the Garden is in its 2nd edition (Dragonfly Publishing, October 2018), launching the new Wild Mountain series.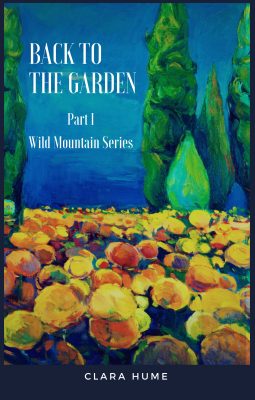 Clara Hume's speculative eco-fiction, Back to the Garden, is told from the perspective of a group of "tipping point" survivors—a generation of mountain folks who have experienced the collapse of late-stage capitalism, along with widespread ecosystem degradation due to climate change. It is within the framework of a unique time, when these characters live through two worlds, vastly different from one another, that they tell their tales, a way of documenting their journeys in life.
While the friends and family in this novel struggle to survive, and overcome personal losses and grief, they do so with the strength of character that allows people to gracefully succeed during times of societal failure. They understand that true riches of life come from the great outdoors and from their relationships with each other. They learn to survive and adapt in a climate-changed world. Part "road" novel, part survival tale, and part romance, this literary novel looks into the human psyche as people similar to how we imagine ourselves find hope in the face of disaster.
---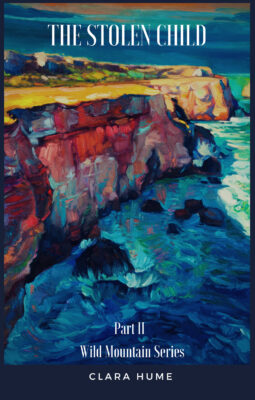 Part II. The Stolen Child (Dragonfly Publishing, February 2023. Read Climate Fiction Writers League's feature of the novel.
The final part of the Wild Mountain duology picks up two decades after the first book ends and focuses on the continued lives of the characters we loved from Back to the Garden, and a new character, Fae, Fan and Leo's youngest child. Fae comes of age at the turn of the 22nd century, in a world we would not recognize. A bright but reserved girl, who would rather be riding her horse in the mountains or reading a spectacular novel than socializing with the rest of the ranch family, she begins to shed innocence as she learns of the changing world outside her bubble. A mysterious cult is making appearances, as if the extreme climate wasn't bad enough. Rumor has it that children are missing. As Fae begins to sense she is being watched, the family is forced to move off their Idaho mountain after a wildfire ruins their homes. They make a decision to head north to an old grizzly bear sanctuary in the British Columbia rainforest. Just as she is getting settled there, a religious cult kidnaps her and takes her to Ireland.
The novel works off themes from WB Yeats' poem by the same name, including how societal expectations can trap us, whereas nature is more freeing. The novel follows Fae's experiences as her kidnappers take her to Ireland as well as the journal entries from her parents and a few family friends, who receive a tip on where she's heading and sail up Alaskan and Canadian rivers, and then the ocean, to bring Fae back home.