Amelia Lionheart's Eco Children's Book Collection
I recently had a long phone conversation with the lovely Amelia Lionheart, whose interview I will post in the next few months. Amelia runs JEACs (Junior Environmentalists and Conservationists); she attempts to enlighten children – through the means of adventure stories – about conservation and environmental issues. Amelia sent and signed her collection to me as a gift to my niece, who is not quite reading yet but hopefully will enjoy these books in the future.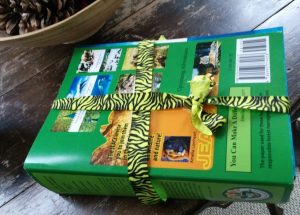 I think my photo above is the back side of the books, but it's the only photo I managed to get before my niece left. You can view covers at JEACs.
Read more about Amelia's series:
The Humming Grizzly Bear Cubs (not listed yet at JEACs)