Aerovoyan, P.L. Tavormina
On planet Turaset, droughts ravage farmlands, cyclones rip through coastal cities, and with every barrel of oil the combustion industry pumps from the ground, the climate worsens. Alphonse has just refused a council seat because taking it means serving that rapacious industry. He leaves the city to seek solace in the wilderness, and there, a power to live the past awakens within him. Alphonse walks the steps of his distant ancestors on long-dead Earth, soon growing plagued with memories of its collapse, and he's left with a troubling certainty: he must infiltrate the combustion industry to secure proof of its treachery, or Turaset will be next to fall.
Alphonse finds an ally in Myrta, a farmgirl who sees air, every molecule in every pulse of breath or blast of exhaust. With her talent, she can evade the patrols on the industry's grounds. Together, Alphonse and Myrta can prove the industry lies about emissions. They can convince the councils to shut down fossil fuel use permanently.
But people in the industry have grown wise to Myrta's power—and now she's marked for death.
Full title: Aerovoyan: The Industrial Age, Volume One
Author: © P.L. Tavormina
Type: Fiction Novel
Publisher/Ordering: Amazon
Publication Date: November 23, 2019
Author Links: Author website, Twitter, Facebook
---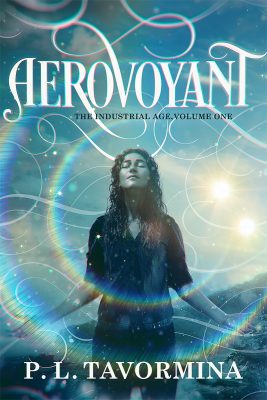 Prologue – Excerpt

"Why did they all die?"
Alphonse had curled up next to his grandfather, whose shoes were off for the evening. The familiar smell of leather and too-warm socks was starting to fade.
His grandfather's eyes crinkled. "They didn't, or we wouldn't be here."
Alphonse gave a small, frustrated sigh at being handed yet another logic puzzle. "I mean, why did most of them die?"
At that, his grandfather laughed. "Very good, Grandson. Very good indeed. Most of them died because they came from another world."
"Called Ert." Alphonse scooted closer, right up against the old man's side. Snug.
"Earth. That's right. Our ancestors wanted to live on Turaset, but the air made them sick. The radiation from our suns was like nothing they'd seen before."
"The radi…"
"Ra-di-a-tion. The breath of fierno."
Alphonse ran his finger along the back of his hand. His skin had gone mahogany again, because of fierno's breath. "They didn't change color?"
"No, they didn't. None of the colonists had purple skin tones like your friend Matiya, or blue ones like the little girl next door."
"Because there wasn't feerno on Ert?"
His grandfather's face went smooth, and his lips curved in a small smile. It meant the storytelling could last forever—all the time in the world, as long as Alphonse wanted—and he smiled back. "Fierno, Grandson. Earth. That's what we think, but we don't know all the details."
"Because they died."
His grandfather squeezed him gently around the shoulders. "Again, not everyone died, but yes. They needed to survive. And they believed some things should be left behind. They saw what happened to Earth and took it as a lesson. And so, they brought some things—"
"Like grapes."
The man laughed. "Yes. Grapes. And destroyed other things."
"…destroyed other things." Alphonse wondered what those things were. The room fell quiet in a middle-of-the-night kind of way. The kind of quiet Alphonse knew from waking up in a drowsy pocket of blankets and reaching about for his stuffed lion. Still and deep, where any small house-sound might cuff away at his ears. It was like that for a minute.
"The Precepts say it's important to live in a simple way."
Alphonse didn't care about the Precepts. "But how come we turn colors?"
"Because of the breath of fierno."
"No. How come?"
"Ah. How did it come to pass." His grandfather lifted him onto his lap, and Alphonse leaned onto his chest, where the steady thump from his grandfather's heart pulsed into his cheek. "It's hard to know the truth after so long. We think the scientists changed our cells."
Alphonse scrunched his face.
"They say the founders took the different colors—pigments—from Turaset's byantun trees and quiverfish, and from other plants and animals too, because those creatures survive fierno. And they gave the pigments to us, into the part of us that gives us our shape." His grandfather held Alphonse closer, and his voice dropped to a whisper. "They even say, Alphonse, that there are more gifts inside our cells. Waiting to be unlocked. Gifts to help us avoid the mistakes they made."
"On Earth."
"That's right! And you said that exactly right. On Earth."
 ***
Chapter One – Excerpt
The last time Alphonse wore this tie had been to his grandfather's funeral seventeen years earlier.
He remembered playing with it during the service, twisting the too-long tails around each other in one direction, then the other, then back again, while the funereal deacons watched with disapproval. There'd been eulogies, and embraces, and other things he probably should have held onto over the years, but in truth the only crisp details he remembered were the glaring deacons and this thin, black tie.
Tonight, he found it in the copperwood chest on top of a few suits his mother had put away. Tucked between his grandfather's wallet and spring-driven pocket watch. Traces of sandalwood cologne drifted from the suits—ghosts, the past wrapped up in this little chest. The memory of his grandfather, Councilor Stavo di Gust, saying Alphonse too might sit on the city's Council one day.
A seat had opened, and with his mother's connections, Alphonse had a shot. A tingle of nervous anticipation spread down his arms. Pushing a tie clip over the tails, he muttered, "You should be here." He headed downstairs, where his mother was speaking into the distavoc.
"Into the joint account, tomorrow." As she spoke, Ivette Najiwe fiddled with a carved ring on her index finger. The color matched her dress, both white. She met his gaze and pointed to a jacket laid out across the sofa. "We need the money by mid-morning. Yes, I know the limits."
The jacket was white as well. He walked past it to the hallway closet.
"You don't need to record the transfer at all." She snapped a finger and gestured at the jacket again.
He pulled a brown one out, mouthing, Matching clothes?
She exhaled loudly. "Why do you need the name? Fine. Zelia Naida."
The funds she was transferring had to do with the combustion industry, the interprovincial conglomerate of energy production, which meant this call would take a while. Alphonse stepped outside to wait.
Bel and Letra, the twin suns of Turaset, were climbing down the western sky. Two identical drops of liquid gold. Dusky light from both carpeted the Martire Arel range, and his breath caught. The glow out there. One peak in that great swath soared over the others, Mount Tura and its crowning pinnacles, The Prophets. His grandfather had once said they'd climb those together.
Anticipation and anxiety tossed around inside of him, along with a little self-doubt. Sangal's most influential lawmakers would be at the gala tonight, and he'd need to convince them he was the right choice for the Council seat.
Relax.
Behind him the door opened and his mother stepped out, reached up, and flicked something from his shoulder. Her eyes landed on the tie, and her expression froze. "That's Father's."
"Yes."
She regarded him, unspeaking, frown lines starting on her forehead.
"I'll change if it upsets you."
"It doesn't upset me. It concerns me. The Council's different now. He has no place in your thoughts."
No. She was wrong. If ever Alphonse needed an anchor, it was tonight.
"I thought you wanted this."
"Yes, of course I do. Yes. It's the means that bother me. Grandfather wouldn't stand for appointment by acclamation."
"You don't know that."
"Mother. Think about the laws he wrote; the ones he fought for and the ones he let go. Whoever's named has zero mandate from the people. Acclamation—it just isn't a good foot to start on."
"Alphonse. You are an excellent candidate."
He blinked. This was a departure from their normal argument. His chance at success had always been pinned to her connections, her job with the industry and its influence up and down the coast. Quietly, he said, "Thank you. I'm sorry. I'm a little nervous."
A hired automobile pulled up, and gesturing to the aut's back door, she dropped her voice. "You have no reason to be. Listen, I understand how you feel. I do. It's possible nothing will come of tonight. I'll do the talking. You be agreeable."
Agreeable. She meant he needed to keep his head together around the Council leader, Lesteri di Les. "The man's a crook," he muttered.
"The man is necessary. Just hold your temper."
Alphonse had often thought campaigning for a council seat would be the political equivalent of scaling the perfect cliff. There'd be plenty of challenges along the way. Building a platform, finding support. An opponent and debates. Each step, a pitch up the face.
Reaching the Council through acclamation, well. That was different, wasn't it? But the destination was the same. At its heart, acclamation was a different route to the same clifftop. Nothing more.
When they arrived at Governance Hall, Alphonse held the door and followed his mother in and upstairs to the banquet chamber. Narrow windows, lavish drapes. Waiters with trays and politicians with drinks. A few other political funders. Same as a dozen times before.
"Councilor di Les," she murmured. "By the far wall."
Yes, there he was, speaking with a councilwoman. As head of the ruling caucus, di Les could line up the votes to give that seat to anyone. Alphonse swallowed against his nerves. He'd bet good money that if di Les picked him, there'd be some string attached. He might be asked to swear a loyalty pledge of one sort or another.
His mother took a flute of sparkling wine from one of the waiters. "Try to enjoy yourself. He'll be free soon enough."
"Yeah," he breathed.
Outside, first sun was down. Evening light had deepened, and the view of The Prophets was clear. Immutable, monolithic giants, standing guard over the Martire Arels.
So old.
Those great cliffs would have dominated the western skyline even before humanity claimed Turaset as its new home. Legends, dozens of them, had been built off those hills. One said the ghost of a colonist, Arel, haunted the pinnacles. Find Arel and steer fate, that was the legend. It had become the family joke, too, that Stavo had written his environmental laws to keep Arel safe.
His mother leaned over. "The councilor's free."
"Right." Alphonse's hope and fear focused into a point. Once seated, the new councilmember would help steer law. He started toward di Les.