A White Umbrella in Mexico, Francis Hopkinson Smith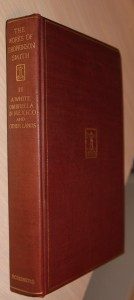 I found this book among a collection of "The Works of F. Hopkinson Smith" at Brown's Books in Burnaby. I didn't buy the whole collection but simply chose the book that looked tempting to me. I often joke that if reincarnation were real, I would most certainly have lived a previous life in Spain or Mexico. My love of the Spanish culture has been life-long, and Spanish has been my only second language. My one trip to Mexico ever was in the recent years during turmoil, drug wars, and shootings–but I safely traveled to La Paz, driving on down to Cabo San Lucas, and seeing some moments of a seemingly forgotten world, such as skinny vacas crossing the highways and simple adobe cantinas edging the sea.
The book is in okay shape for being published originally in 1889.  Sadly, there's not much on this particular book out there as far as reviews, though in 1889 the Atlantic Monthly called this collection of short stories a "gay little masterpiece". The book recounts Smith's travels in Mexico.
The one thing that occurred to me upon beginning to read the book is that literature at the time was largely set during the discovery-of-the-world stage, and thus was documenting places that might have been little known to the majority of people: certainly even though most of the world's population had heard of Mexico, they would not have been treated to such personal vignettes set among every day life without travelogues. These days people have been most everywhere, and I consider old discoveries lost paradises in a way–in that vein, I think we suffer. Though I think we suffer more for having conquered and ruined the beautiful lost places. If we haven't been to Mexico, we can get on the internet and discover the commercial aspects of it from tourist sites, the little known paradises from blogs, and so forth. A long time ago the best way to share information seemed to be by traveling to a place, either in reality or imagination, and writing about it.
The second thing that occurred to me was: what is the meaning of the "white umbrella"? The term is also mentioned in Smith's "A Procession of Umbrellas" and refers to the umbrella he used to block the bright sun when he sketched scenes and people. Biblio.com also mentions that the book was written "to appeal to the painter and the idler–a land of white sunshine redolent with flowers, a land of gay costumes, crumbling churches, and old convents, a land of kindly greetings, of extreme courtesy, of open, broad hospitality". The umbrella term is confirmed by a blog by Catherine Reef, who wrote:
The Baltimore-born Smith painted his way through old Mexico, enjoying the shelter of his white umbrella as he sketched village squares and attracted onlookers…Refreshingly absent from Smith's book is the condescension so common in nineteenth-century travelogues. Smith accepted Mexicans as they were, as equals and potential friends. "Oh! the charm of this semi-tropical Spanish life! The balconies above the patios trellised with flowers; the swinging hammocks; the slow plash of the fountains; the odor of jasmine wet with dew…." I was there, in long-ago Guanajuato, with Smith.
In this book, there are several literary sketches of Mexico, including snapshots of experiences among the streets and country of Guanajuato, Silao, Querétaro, Zacatécas, Toluca, Morelia, Pátzcuaro, and Tzintzuntzán. Of course by this time, the country had been assimilated by the Spanish Catholics, so the writer's perceptions are flavored by that.
Smith was also an artist and engineer (his collection includes many sketches), and he built the foundation for the Statue of Liberty.
The first sentence is:
This morning I am wandering about Guanajuato. It is a grotesque, quaint, old mining town, near the line of the Mexican Central Railroad, within a day's journey of the City of Mexico.
One thing that struck me when reading is that, although written without such detail as travel writer James Michener, I got a scent of his style in this author's writing.